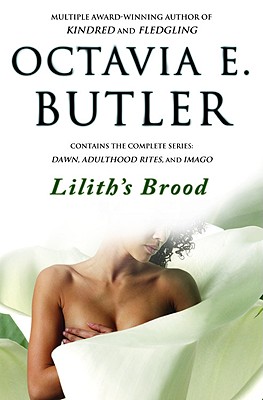 Author Name Butler, Octavia E.
Title Lilith's Brood
Binding PAPERBACK
Book Condition Very Good
Publisher Grand Central Publishing
ISBN Number 0446676101 / 9780446676106
Seller ID 1FY-120717EAG004
0446676101 Ships quickly. Mild shelf/reading wear. Orphans Treasure Box sells books to raise money for orphans and vulnerable kids.
More Description
The acclaimed trilogy that comprises LILITH'S BROOD is multiple Hugo and Nebula award-winner Octavia E. Butler at her best. Presented for the first time in one volume, with an introduction by Joan Slonczewski, Ph.D., LILITH'S BROOD is a profoundly evocative, sensual -- and disturbing -- epic of human transformation.
Lilith Iyapo is in the Andes, mourning the death of her family, when war destroys Earth. Centuries later, she is resurrected -- by miraculously powerful unearthly beings, the Oankali. Driven by an irresistible need to heal others, the Oankali are rescuing our dying planet by merging genetically with mankind. But Lilith and all humanity must now share the world with uncanny, unimaginably alien creatures: their own children. This is their story...
Price = 10.95 USD